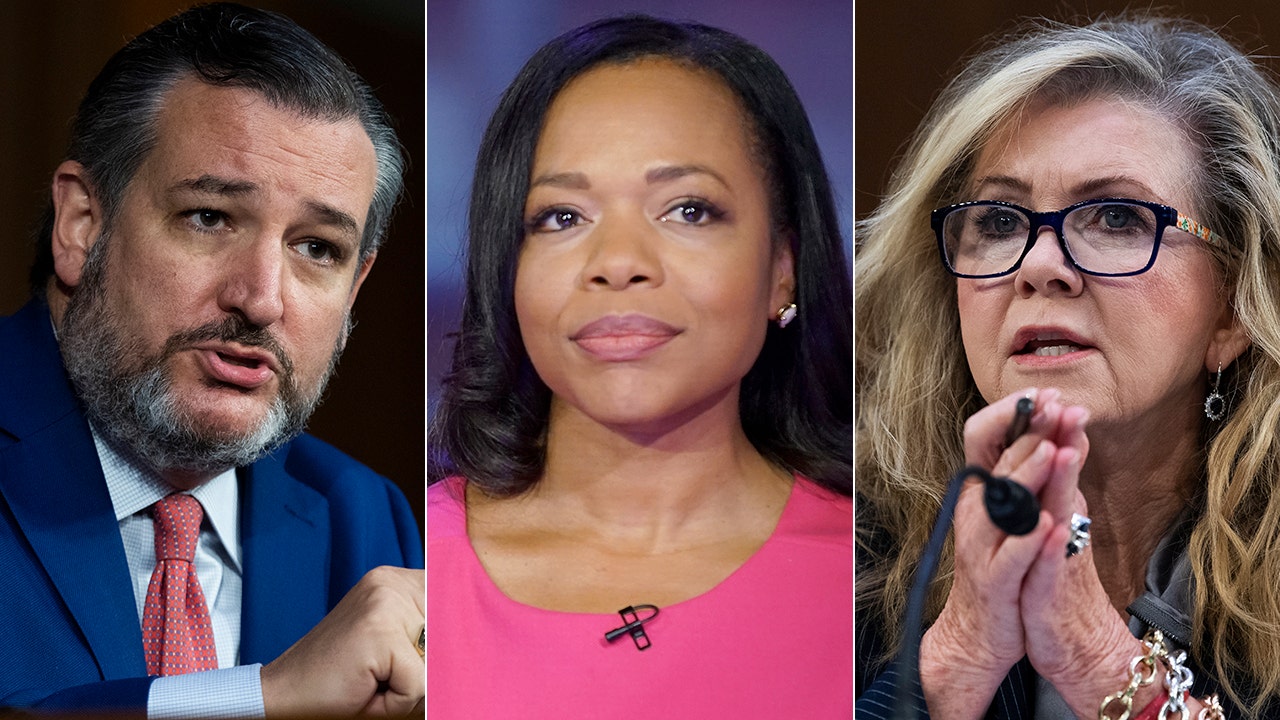 GOP Senators Grill Assistant AG Kristen Clarke on DOJ School Board memo
Senators Marsha Blackburn, R-Tenn., And Ted Cruz, R-Texas, grilled Assistant Attorney General Kristen Clarke on Wednesday over controversy Department of Justice memorandum mobilize the FBI to respond to alleged threats against school board members nationwide.
Clarke, who was appearing before the Senate Judiciary Committee to discuss voting rights, was first asked by Blackburn to affirm the DOJ's commitment to the First Amendment.
"Does it raise civil rights issues when the government tries to intimidate citizens who exercise their First Amendment freedom of speech?" Blackburn asked in an apparent reference to the DOJ memo, which Attorney General Merrick Garland wrote after the National School Boards Association (NSBA) sent a letter to President Biden.
The letter called for help with alleged death threats against school boards over COVID-19 policies and Critical Race Theory (CRT).
Critics have claimed the memo will effectively arm the FBI to investigate parents who oppose the curriculum and policies of their local public schools.
"The First Amendment is important, and we don't want a society intimidated either," Clarke told Blackburn.
When Blackburn asked Clarke about the memo, Clarke said, "This is not an issue that has been dealt with by the Civil Rights Division. our country. And that's not a First Amendment protected activity. "
"And so you say that a parent who goes to a school board and expresses his dismay with the CRT or with the mandate of the mask is not a protected speech?" Blackburn asked. "Is that what you're saying?" "
COTTON JOINS GROWING LIST OF LEGAL REQUESTS REQUIRING DOJ RESPONSES TO PARENT SURVEYS
Blackburn also asked if Clarke thought it appropriate to treat parents like national terrorists for asking questions of elected school board members about what their children are being taught.
"While this is not an issue dealt with by the Civil Rights Division, it is a memorandum issued by the Attorney General, I know the department is committed to ensuring a solid civil discourse," Clarke said. .
The senator then referred to the recent report on the scrutiny that Garland faces for ties to a company that promotes the kind of content parents oppose in their ongoing battle with local school boards.
When Clarke again asserted that the issue was also outside of her jurisdiction, Blackburn replied: are tagged, and this directive for the FBI to investigate parents who stand up for what their children are subjected to in certain school systems public. "
CLICK HERE TO GET THE FOX NEWS APP
Cruz pushed Clarke with a similar line of questions, alleging that neither she nor Garland had succeeded in keeping their promise to maintain an apolitical GM.
Echoing Blackburn, Cruz urged Clarke to clarify whether the GM thinks parents who question their school boards have civil rights, to which Clarke responded by assuring the senator that she does not view these parents as national terrorists. .
When Clarke declined to comment on whether she considered Antifa to be national terrorists, Cruz said, "Miss Clarke, it's amazing that you don't want to condemn the people who murder police officers and bomb cities because that your policy aligns with them but at the same time, when it comes to parents in school boards, you are perfectly comfortable calling a mother at a PTA meeting a domestic terrorist. "