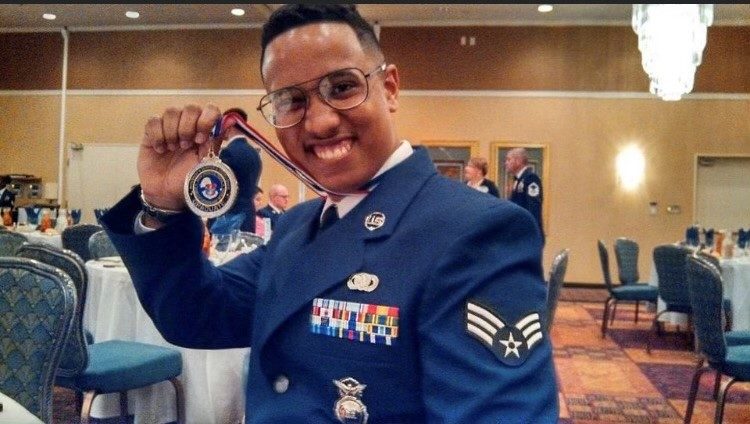 Lee Tamburro, a student at Keiser University in Tampa, turns a knack for problem-solving into a career of community service
When Lee Tamburro walks through the door to the lab room, he is taken to a new scene.
A crime has taken place. As objects lay across the room, he gazes through his camera lens like a window into the past. By clicking, each snapshot could contain the answer of what happened.
"Learning about blood splatter, learning about gunshot residue, learning about fingerprints and things like that," Tamburro said. "Being able to actually learn something and do it exactly in a lab environment, I think is very rewarding for me."
Tamburro is a student at Keizer University in Tampa earning his associate of science degree in crime scene technology. Driven by solving investigative problems, Tamburro says his passion for finding answers began before he entered campus.
"I think the investigative side of finding evidence intrigues me a lot," Tamburro said. "With what I did in the military helping, I think it's just something I want to continue doing helping people and being able to solve problems. Try to understand what exactly happened and try to help the victim or the person who is on the other side of the crime.
Tamburro served as a military police officer in the United States Air Force for seven years. He spent six of those years abroad, traveling to countries like Germany, Korea, and Japan.
"I got to know myself and understand who I was. I have beautiful traits, characteristics and values ​​that were instilled in me," Tamburro said. helped, not only in this program, but also in my last degree."
After retiring from the military, he returned to his hometown of Pittsburgh, Pennsylvania and earned a bachelor's degree in cybercrime. Looking for a change, he moved to Tampa for a new opportunity and a new degree. Contacting an area veterans resource center, he found Keiser University and knew it was the answer he was looking for.
"It's a smaller classroom, and you have more time with your teacher. A lot of times you're just a name on a paper in a bigger class, but in those smaller classes it's a little nicer," Tamburro said. "This nice and a bit different accelerated program where it's one class at a time, I think is really helpful for a lot of people, even those who have been out of school for a long time. I think the way Keiser University sets up its programs for each study plan, I think it is very beneficial for all of us.
Tamburro is expected to graduate this summer and is currently working with the Career Center and other area veterans groups in hopes of using her new degree to continue serving and helping others.
Keizer University is a private, independent, nonprofit university serving nearly 20,000 students at 21 Florida campuses, online, and at two international locations. Co-founded in 1977 by Chancellor Arthur Keiser, Ph.D., and Evelyn Keiser, Keiser University currently offers more than 100 degrees ranging from associates to doctoral degrees. Keiser University is a designated Hispanic-serving institution, a member of the Hispanic Association of Colleges and Universities, and was ranked #5 in the United States in social mobility by US News And World Report in 2022.